Kamasutra, which is also popularly known as the Bible of Sexuality, has referred the use of aromatic oils and ittar in uplifting the sexual drive in a person. Since time immemorial, these essential oils are widely used to arouse sensuous feelings and desires.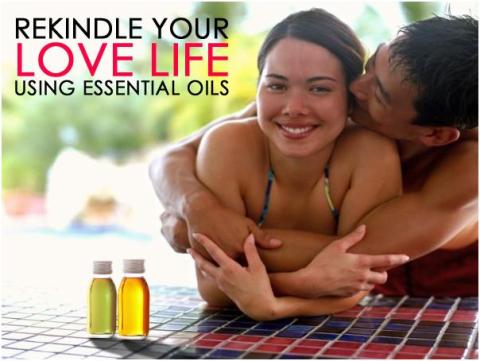 The marvelous aroma of these oils arouses a person's pituitary gland, which regulates the hormones associated with his/her sensual desires.
Before jumping to all the all-essential oils that aid in lifting the sensuality, let us find out the pragmatic relation between sensuality and aroma.
As petty it might appear, the use of some specific types of aroma into a person's body stirs some positive response, which gradually changes the processes of body and mind. Now you be thinking as why colognes and perfumes are one of the widely sought commodities. This is because fragrances coming out from these products help to stimulate the senses of a person.
Another apparent explanation that can help you acknowledge the relationship between sensuality and scent is the very state of euphoria or pleasure that it takes a person into. A person when inhales the aroma, his/her body triggers several responses depending on the association with the individual who is wearing the sensual scent. On the other hand, the individual wearing the aroma tends to feel more confident and calm about self. This eliminates any kind of negative feeling for sexual intimacy allowing the person to react efficiently to any kind of sexual stimulation triggered by the scent.
Are you eager to know about those mystic essential oils? Hold on, your wait is over, as here, I will be listing a few such amazing essential oils that will help you boost your libido as well as uplift those sensual feelings.
Rose Oil
Did you know that the goddess of sensuality and love, the Aphrodite used to deck up her den with petals of roses? Yes, that is true. Even the great Cleopatra used petals of rose for bath. The rose essential oil is very effective in soothing the senses by curbing the anxiety associated with sex. Since the oil serves through the heart chakra, it assists to fuse physical and spiritual love.
Jasmine Oil
Jasmine is one of the excellent aphrodisiac oils due to its amazing erogenous effects on the human senses. This flower is in use in the art of seduction since ancient times. It is exquisite and warming oil, which uplifts sexual awareness and confidence.
Ylang-Ylang Oil
This oil has some outstanding properties, which are quite similar to jasmine oil. Ylang-Ylang oil is very exotic and has a cute floral fragrance that instills joy in a person. In fact, this oil increases the attraction between couple to a great extent. Simply put a drop of this oil on a cotton bud and place it under bed to see its magic.
Sandalwood Oil
This oil has a sweet woody fragrance and has both meditative as well as sensual characteristics. You can mix sandalwood oil with frankincense, rose, lavender and basil oils for added effectiveness. Many believe that using sandalwood oil helps to boost the level of physical affection to pinnacle. Nevertheless, sandalwood today is one of the most endangered or on the verge to extinct trees and thus, numerous environmentalists' advice to avoid using sandalwood oil generously.
Cumin Oil
This oil is not renowned for its aphrodisiacal qualities, but has many other benefits for both men and women. Cumin oil enhances fertility when it comes to women, whereas for men, this oil ignites intense sensual feelings as well as arouses sensual desires.
Clary Sage Oil
This particular essential oil is a very distinct from all the above-mentioned types due to the lingering nutty aroma that it exudes.However, it is imperative to note that this oil is relaxing, sensual and makes the person feel ecstatic. Pregnant women ought to avoid the use of Clary Sage oil.
Clove Bud Oil
Clove bud oil is extremely effective when it comes to getting rid of depression. The oil also serves as an excellent stimulant, makes a person more zealous, and assists in enjoying the sensual experience like never before.
Patchouli Oil
Patchouli oil renders a blissful, musky and spicy fragrance. It soothes both men and women. You can mix it with lavender, geranium and clary sage oils for added advantage. Patchouli oil assists to relieve depression and stress thereby, lifting the mood and spirits.
Lavender Oil
Lavender improves the blood flow in a woman's sexual organs thereby, producing increased sensitivity during intercourse. In short, it increases the sensitivity in and around the sensitive areas of a woman during a sexual encounter resulting in heightened pleasures.
Agarwood Oil
It is one of the most powerful aphrodisiac essential oils and works by setting the mood for sexual experience by serving as an efficient sex drive lifting tonic. It alleviates any kind of anxiety or stress associated with sexual experiences. Therefore, it helps a person to concentrate on the act rather than bugging about the stress.
Tuberose Oil
This efficient aphrodisiac oil works on the brain. It enables in releasing stress related to sexual experience and puts the person at ease and stress free. In addition, it has a warm effect on your body and elevates blood flow to give an invigorating feeling.
Clove Oil
Clove oil acts as an excellent stimulant eliminating all kind of depression and allows you to enjoy the sexual act to the core. Further, the oil boosts energy levels to enjoy an instigating and passionate sexual experience.
Vanilla Oil
Using vanilla oil will entice your senses by increasing the production of two vital sex hormones namely estrogen and testosterone thereby, stimulating the sexual behavior in women and men.
Lastly yet importantly, it is advisable to consult your doctor before using any of these essential oils if you are suffering from respiratory issues or blood pressure problems. In addition, these oils are not meant for ingestion and you should keep them away from flammable items.
Good Luck For A Sensual Experience!