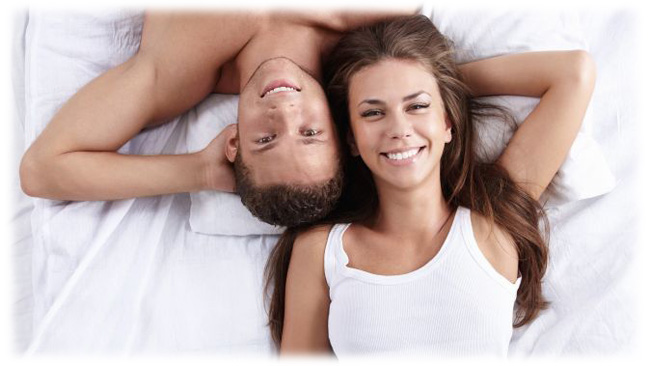 People say sex is an art. If you are able to give your partner a memorable moment that you spent on bed, then he/she is definitely going to be your forever. It is indeed hard to understand the fact that how can we have creativity in sex. What can we do to woo our partner on bed? We tell you how.
Men:
Men are considered as the powerful person on bed. They are the one who have urge to have sex more than women. We tell you how you can make a better move to impress your lady love over bed.
1.    Try New Positions: The 'Kamasutra' provides you with various positions that you can try out during sex. It is important that you try something new every time. Make sure that your partner enjoys the every new position that you try.
2.    Workout For Sex: Women like fit boys. They are crazy for it. Also, gym helps you to improve your stamina. So, try to visit gym on a regular basis so that your lady is impressed with your body and stamina.
3.    Make Slow Move: Foreplay sets the mood. You don't have to rush towards the final stage of sex as soon as you start having it. Go slowly and enjoy every moment of it.
4.    Play Games: Sometimes, playing some childhood games sets the mood. Understand your partner well and then try out with the different games that she likes.
5.    Watch Your Health: It is important that you take care of your health properly. You should keep yourself away from all those things which might affect your sexual health and at the same time should include those things in your diet which would help you with stamina.
6.    Visit Doctor: If you are facing any problem in erection or premature ejaculation then you should consult your doctor at the earliest. These things would surely affect your sexual life.
Women:
Even though men are considered as the powerful person over bed, women are the one who starts the mood. You all should know about how you can provide better pleasure to your partner on bed.
1.    Decorate The Bedroom: You would surely not likely to spend your valuable time in a place which is disturbing. You can start setting up the mood by decorating your bedroom. Try using lights and things that would indicate him that you are planning for something nice this evening.
2.    Start A Conversation: Men like it when women have conversation and express their feeling about the night. Make sure that you are having conversation with him while you are enjoying that moment.
3.    Realize The G Spot: Unlike women, men also have their G spot. Locate it and activate it. It would set them into mood and then you can take the charge.
4.    Ask For New: They might not come up with something new every time so you have to take the charge on it. Come up with some creative ideas and ask them to implement on them.
5.    Spend Quality Time: It is important that you spend quality time with each other beyond bedroom life. So, plan out for a dinner somewhere and have a romantic day out.
6.    Surrender Yourself: Don't forget that men love being a dominating gender on bed. So, to encourage them more, surrender yourself to him over the bed.
Sex life is considered to be as private life. So, many don't discuss about the problems they face in it. It is important that you discuss it with your doctor if either of you are facing some difficulty. The bad sex life might lead to various other complications in your life. Sex is not the only thing in life but yes, it is an important thing.