Many ladies experiences insecurities while having sex. And it is very obvious if a woman is new to have sex. Even if you have several insecurities, don't worry, take your own time, and make yourself comfortable and most important talk to your partner about your fears.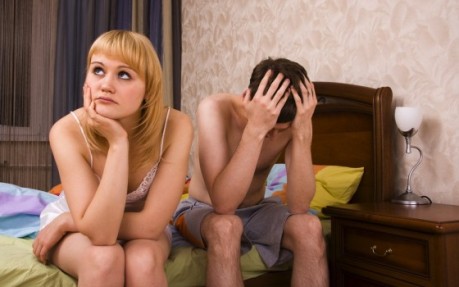 Insecurities in relationship make the conditions worse and not better. Sex is a sensitive subject; so you have to handle it with care.
Ladies, if you are finding insecurities while having sex then here are some tips for you:
1. Walk naked in the bedroom:                              
Believe me, if you want to overcome the insecurity, first you have to be confident about yourself and your skin. If you are not comfortable with yourself then there is no possibility of being comfortable with someone else. It is the first step that you can start with. You just have to walk naked around your bed casually, trust me it will work!
2. More the masturbation more the fun!
This is little touchy, but masturbation is a quite healthy thing that can be done. You need not have to feel ashamed of it; it is the part of every individual's life. Ladies, this will be a great start to start knowing some better things about you e.g. what do you love and what makes you horny. If you know about yourself then you can pass it on to the partner. You won't feel uncomfortable when your partner does that for you and you will be comfortable soon.
3. Accept yourself!
Everybody has his own likes, fantasies and obsessions; so if you like something accept it. There is nothing wrong even if you like something wild or dirty. If you really want to get over the sexual insecurities, you need to accept and love yourself. Whatever you do, have a confidence!
4. Practice makes a man perfect:
Ladies there's nothing which is as good as Sex; it is fun. If you are doing it with a right man then you are going to have an awesome time. The more you practice, the better you are in bed. Try practicing things with him more and boost up yourself confidence. This will really help you get over the insecurities.
5. Talk dirty!
Making your conversation with him a little dirty can help in relaxing the atmosphere and also if you are feeling pressurized it can cool down the temperature. It can a great away to raise the hotness in the bedroom and can give you a push towards taking the first step. Don't let the conversation go down, just continue going with the flow and see how expressive your partner is!
6. Have fun:
Sex should be easy for you if you are if you are having it with your spouse. Just keep the atmosphere light and do the things. Having fun will definitely help you in overcoming your insecurities. If you are not enjoying a particular moment then have a talk about it. You need to enjoy the things first then see how long your love making activity goes!
7. Give priority to sex:
Everyone is busy in their work and lives; you need to take some time out for having sex. We have to thank endorphins as orgasm is good for oozing the tension. Not only will get satisfied by having sex but also you will create a close relation with your partner. So make it a habit and get your done!
8. Don't try to be a perfectionist: Don't try to be perfect, you need not have to express or behave like a porn star. Whatever you are doing should be fun and enjoyable. Enjoy the time when you are together and don't try to make the sex positions perfect; just make it feel good.
9. Keep going on: If you are feeling ashamed of the position that you tried last night and you were unsuccessful doing it the right way, then you are wrong. You can keep trying it; as they say 'try try, but don't cry'.