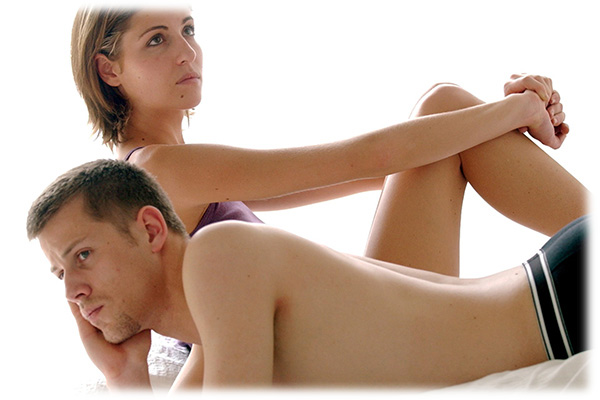 A nice and good sexual health can impress your woman. This is the time when she is close to you and comes to know more about you. At this time you would surely not like get yourself into an embarrassing situation.We bring to you the list of symptoms which can act as a trouble in your sexual life.
1. Erectile Dysfunction: It means that you fail to attain the proper erection which is needed to have intercourse. At this time, it not only your lover but you also gets frustrated as you are not able to bring your sexual pleasure to the appropriate climax.
Reason:
This problem can be the result of improper blood flow, nerve disorder, stress and other such mental problem.
Solution:
It might be awkward to speak to your doctor about it but until you won't discuss it with him/her, you won't be able find a solution. It is important that take an appointment and talk your doctor so that he can provide you with appropriate medicine for Erectile Dysfunction. Your doctor might suggest you with certain other medications like medication for urethra, injection for corpora cavermosae, vacuum constrictive for penis or penile prostheses. You might need to go through some psychotherapy if stress is the main reason behind it.
2.    Inhabited Sexual Drive: Sometimes, you might feel less desire for sex. This can be because of less of libido. It can be of two types. Primary, where a person has never felt the sexual desire and secondary, where he used to feel it but doesn't feel it anymore. Also, sometimes a person doesn't feel attractive to his partner but feels for other people or he doesn't feel it for anyone.
Reason:
Normally, psychology is the problem. If a person is having stress and he tend to lose the interest of sex. Lack of communication, affection, very strict upbringing concerned to sex or negative thinking towards sex may be some other problems.
Solution:
For treatment it is important to figure out the exact problem of inhabited sexual drive. Once the reason is known, doctors can help you with this.
3.    Premature Ejaculation: It is a situation when you ejaculate before you or your partner wants you to. If you face it something then there is nothing to worry about but when it becomes regular or happens quite often it is a matter of concern.
Reason:
It is said that premature ejaculation is caused by the rush for sex by men. This means, he wish to rush to the climax at the earliest. It is related to mental status of men at that point. If he wishes to be at the climax at the earliest then there are chances of premature ejaculations. Also, erectile dysfunction can be another reason behind it. People also say that anxiety and relationship problems add up to it. Considering the situation on a biological front, it can be the hormone problem, thyroid problem or other such reasons.
Solution:
There are various kinds of therapies and treatment available. Your doctor can provide you with sexual therapy or medication. It is best that you discuss it with your doctor and find out the proper treatment for it.
Sexual life is indeed important in a person's life. Being a man, you should take care of the problems that may affect your sexual life resulting in relationship troubles. We hope that the above information would help you understand the problems, symptoms, causes and their solutions. Don't hesitate to speak to your doctor regarding it. She/he would surly understand your problem and would guide you towards a better sexual life.