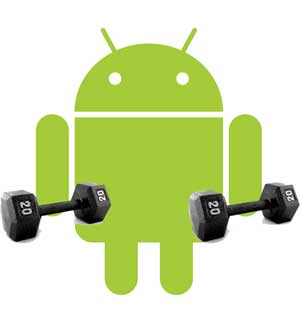 Irrespective of whether you wish to keep your fitness accomplishments and goals to yourself or prefer sharing the same with your friends and peers, there are health apps that serve all these purposes quite effortlessly. Let us find out a few such cool and helpful Android health apps that will help you to stay in shape and stick to your fitness goals.
My Fitness Pal: This particular free Android app allows one to track his/her physical activity and caloric intake. With the help of this app, one can be sure that he/she will stick to the track and fitness goals. If this interests you, then you might also want to have a look at MapMyFitness and Lose It, which are two similar apps.
Fitness Buddy: This is another incredible Android health app featuring thousands of workouts and around 40-50 tailored exercises that allow you to pick the ones that suit your preferences.
Zombie Run!:Keeping in good shape was never an easy task if you are having this app in your Android powered smartphone. Zombie Run! is an excellent interactive game that motivates a person to run faster and farther. So boost your adrenaline levels in a fun way.
Fitocracy: Prompt yourself to shun those additional pounds in a quick way through the power of gaming. Fitocracy not only offers you with adequate information regarding guidance for your weight loss endeavors, but it also assist in tracking the progress. You get award points for the completion of each activity. It also assists to unleash your hidden competitive zeal by taking part in contests.
You Are Your Own Gym: This Android app features around 200+ workouts that you can perform anywhere. In addition, there is no need to hit the gym for performing these workouts.
Office Yoga: You can make use of this Android app to transform your office into a personal yoga center. The app features pictures, resourceful text and low-key audio guide to assist counter everyday pains and aches. If you fall for this app, then I would also suggest you to try Yoga Studio and Pocket Yoga.
Fooducate: The app is developed by some of the dietitians and health buffs to curb the hassles of decoding nutritional facts to ensure that you stay healthy without the need to diet.With Fooducate, one can use his/her smartphone to scan and check a health product barcode to find out whether the product is healthy or not. The app analyzes product contents and aids you to find out what manufacturers do not want you to acknowledge.
Charity Miles: If the noble practice of donating to some charity each time you workout encourages you in sticking to your fitness accomplishments, then Charity Miles is the perfect Android app for you.
So it is advisable to start using these Android health apps and stay fit in an organized and smart way. There are tons of options and you can choose the apps that you prefer. Go ahead, pick your phone, download these apps now, and walk your way towards a healthy and fit life.