Condoms can be an excellent pick for effective protection against unintended pregnancy and sexually transmitted infections.   Despite of giving some great benefits, condoms also have some drawbacks.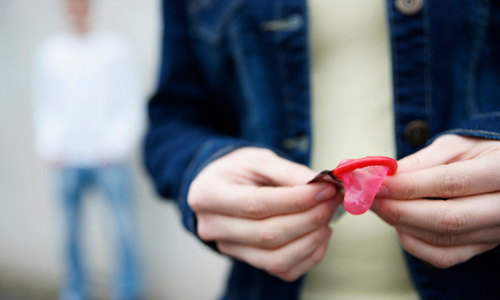 They decrease the intimate feeling, but at the same time, they also make sexual activity  last for longer time, which add a total plus to their benefits.  Enlisted below are the  goods and bads of  condoms before using them.
The pros of using condoms:
Protective And Easy To Use:  the most significant advantage of using condoms is the protection it gives against sexually transmitted diseases and unwanted pregnancy.   It is the most easiest, affordable and effective way to prevent deadly sexually passes diseases like HIV infection and other STD's such as syphilis, gonorrhea and herpes.   Couples who indulge in oral sexual act, condoms are the finest way to keep STD's at bay.
Safer Than Contraceptive Pills:  Condoms carry no annoyances  like the contraceptive pills.  Although  contraceptives protects from unwanted pregnancy, but for this you need to follow a strict regime of gulping pills daily.  However, condoms serve a dual purpose as you can use it as per your need without following any compulsory regime.
Easy Accessibility: Condoms are over-the –counter products, which are easily accessible in any pharmacy store without any authorized prescription.   Besides, it is also available in a large number of flavors to enhance the sexual satisfaction.
Facilitates Worry-Free Sexual Closeness:  When it comes to take contraceptive pills, you need to follow a strict prescription and dosage. However, condoms do not carry any such hassles and are the easiest as well as an affordable contraceptive resort.
Suitable: whether its anal, oral or vaginal sexual act, condoms can be easily used for all forms of intercourse.
The Cons Of Using Condoms:
Interrupt The Sexual Act:  some couples complain that the use of condom interferes the sexual act by decreasing the pleasure and sensitivity. This can make the act unromantic and ruin the  mood when couples are high for sexual performance.
Risk Of Tearing Or Breakage:  There are different sizes and brands of condoms available in the pharmaceutical stores. Picking up a wrong size, there are possible chances that condoms may slip off or break.  At times the couple may be  unaware the condom has torn during the intercourse, resulting in unwanted pregnancy.  Hence, pick the right size so as to avoid any mess while performing in the bed.
Latex Sensitivity:  Condoms made of latex can prove harmful for the one those are allergenic to latex. Such people should use polyurethane condoms. Also,  one must abstain from using lotions, creams or any sorts of body oils along with latex condoms as these greasy stuffs can dissolve the latex and damage the condom within few minutes.
 So, weigh the goods and bads of condoms  while choosing your way of contraception.