Garnering the encouragement or inspiration to workout can be pretty challenging especially in today's time when everyone is bugged with his/her personal and work life to the core.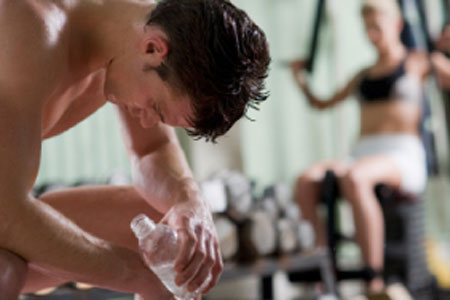 With a lot of obstructions and distractions and so many other things going on in our life, I don't think you will find time or energy to hit the gym everyday. We all know that working out or performing exercise is essential for a healthy lifestyle. It helps us in preventing various types of health conditions.
Some tips that can help you in keeping you motivated for working out are as follows:
1. Have A Positive Attitude: Never think negative and always be positive and try to achieve your goal. You should always try to give a positive thought to whatever you do and always try to get better in whatever you do. So, if you feel that there is no significant change in your weight, keep at it. It is just a matter of time before the workout starts yielding brilliant results.
2. Create A Picture In Your Mind: If your goal is weight loss or building muscles, you should try to imagine a person that you want to resemble who is in a fabulous shape. Cut out an image from some magazine or newspaper and keep it in such a place that it works as a reminder to you every day. Or even better, if there is a picture of your thin days, keep it around to motivate you!
3. Appoint A Personal Trainer: You often tend to go to the gym when you are paying someone there to help you. A trainer will motivate and encourage you to exercise. Trainers have the knowledge and experience to lead you towards the appropriate direction when it comes to exercise routine, so you will be able to accomplish your goals of weight loss successfully. This will help you lose weight faster.
4. Always Workout With Friends: Always bring a friend with you to the gym. You are more likely to go for work out if you have a company. They can also assist and motivate you to perform various types of exercises. It also makes the workout more fun and keeps you away from boredom.
5. Keep A Record Of What You Do: Maintaining a record or journal of what you have done will help you in setting goals and act as a proof that you are doing better. It will be the best proof of your past and present condition.
6. Set Reasonable And Sensible Goals: Set a goal and decide where you want to be after a certain time. Promise yourself to do your best to accomplish the goal. When you achieve your goal, it will give you encouragement and motivation what you can do better and get yourself in a better shape.
7. Treat Yourself: The best way to keep yourself encouraged and inspired to perform exercise is to treat or reward your efforts sometimes. Rewarding yourself on achieving your milestones and goals can help you in keeping you moving in the right direction. You should make sure that you don't exaggerate or overdo it.