Computer Fatigue Syndrome, these days are becoming endemic, as computers have become common in everyday life, whether we use them for entertainment purpose, school, research or at job. However], if you find it difficult to work in front of your computer for extended hours and are plagued by symptoms such as blurred vision, eyestrain, headaches, red- dry eyes, dizziness, low energy and burning eyes then you are suffering from the widespread issue- Computer Fatigue Syndrome.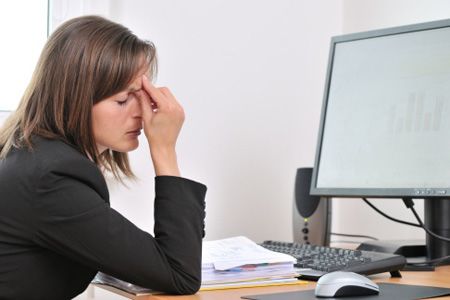 Computer Fatigue Syndrome is not a distinguishable disorder described medically but it is possible to become exhausted or worn out from computer usage. Well, exercising a little at your computer desk is the best way out to ward off Computer Fatigue Syndrome. Here are some exercising tips that you can try on while working on computer.
Exercise Tips To Avoid Computer Fatigue Syndrome:
Rotate your head slowly from one corner to the other as through you are going over each shoulder. Keep this doing till 30 seconds.
For the next 30 seconds, interlock your fingers behind your head and gently press your elbows in the direction of wall behind you.
Then again for the next 30 seconds, move your head up and slowly bend it down, looking down at the floor, then up to the ceiling.
Bend your head gradually from one side to the other as if you are going to touch your ear to the shoulder while keeping the shoulders down. Hold this position for about 30 seconds.
Keep both hands against the back of your head. Now, try pushing your head backwards while resisting the movement of your head with your hands. Breath in deeply and try to hold this position for about ten to twelve times. Repeat it 5 times.
Press your forehead slowly with your palms while not letting your hands to move ahead. Then take a deep breath as you hold this position for about 10 to 12 seconds. Repeat this exercise 5 times.
Sit straight with your elbows bent at the right angles, while your arms out to the sides, just as if you are framing your head. Squeeze your shoulder blades together and then relax by taking deep breathe and holding it for about 10- 12 seconds. Repeat this procedure for five times.
Repeating the above give exercises several times a day while working it front of computers will ensure better productivity and comfort as well. Taking breaks often or simply walking away from the computer at times will in fact increase the productivity and will probably lessen the possibility of fatigue or injury. Thus, make sure that your daily exercising routing includes aerobic exercises for releasing stress, stretching to keep body flexible as well as nimble andresistance workouts for bone and muscle health.
Remember, exercising is the most helpful way to prevent from the Computer Fatigue Syndrome. In addition, Far Infrared Sauna and massage therapist are the best ways to fight Computer Fatigue Syndrome once it plagues you. If pain persists for longer time, seek doctor's help.