Well, you can stay back and make merry in the good news, which here comes, is that you can easily relieve this pain with simple natural remedies. Use them to release the pain and the unwanted discomfort, which is more or less linked with menstruation.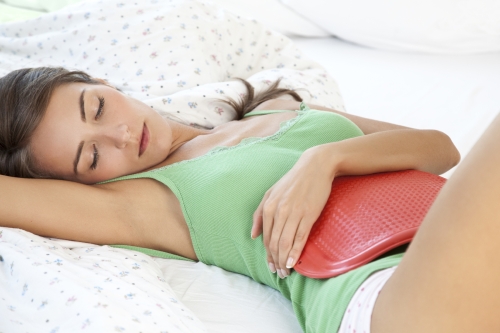 Maintaining a steady workout regime is a good way to perform during menstruation and it has been proven that it largely helps women in easing cramps and at the same time help in reduction of muscle tension. It uplifts your mood too. A workout for around thirty minutes, cardio, aerobics or going for a stroll can really do wonders in easing the pain naturally. Do not strain much on the abdomen and take frequent breaks in between.
A hot water bag when placed on the abdomen can help in relieving cramps. Taking a bath with warm water or soaking in it with some sea salt, too can release the abdominal pain. Salt contains essential properties, which can bring down the pain effectively. Baking soda or sodium bicarbonate too can be added to the bathing water. This is one effective remedy which relaxes the muscles and ease pain quickly.
Vitamins Supplements is said to be beneficial through the time of menstruation as this helps in putting back the nutrients that get lost. Zinc, calcium, magnesium, vitamin B and E are all the good sources of vital vitamins, which must be replaced during this time. Ginger, basil, parsley are the herbal remedies that are used to ease cramps and other common occurring symptoms.
Ginger is known for its amazing properties and usefulness and can be crushed in a cup of boiling water with some honey added into it. Take this solution thrice in a day to see quick results. Let this solution cool down and take it in frequent breaks.
Acupressure is even said to be a nice remedy too to relieve the symptoms of menstrual cramps in women.  Besides this, meditation forms of exercises such as yoga and Reiki is super effective as this not only helps in relieving the symptoms but also keeps the body and mind stable. It relaxes the body and with that helps other common occurring symptoms with menstruation as well.
These were a few ways to relieve menstrual cramps in women, given below are a few others that you can pay heed to:
1.  Heat is one easy way to ease menstrual pain and you can use them in many various ways. When much amount of heat is produced on the abdomen area, the pain slowly but surely goes and clears. At the workplace, carry disposable heating pad and simply stick it under your clothes.
2.  Aromatherapy is calming and at the same time soothing. Inhaling or breathing these aromas can relieve the menstrual pain.
3.  Massaging the stomach in circular motions with light pressure can relax down the muscles in that area. The tension, which you experience, will surely vanish away.
We hope that the above listed information was useful for you!