Before knowing about Sildenafil Citrate, let's check out about Erectile Dysfunction (ED) and its complications. And why Sildenafil Citrate is the drug of choice in treating such sexual issue? ED is characterized by the inability of a man to achieve and sustain an erection that is required for performing sexual intercourse.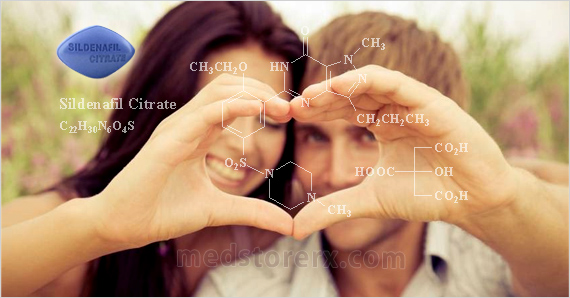 Even after being sexually stimulated, a man fails to get an erection to satisfy his female partner's sexual needs; this makes him frustrated, embarrassed, irritated, disappointed and eventually he lose hopes in making love. The primary reason behind reason such debility is improper flow of blood towards the penile organ due to obstruction in the blood vessels.
What is Sildenafil Citrate?
It is one of the therapeutic drugs used in managing chronic feeble erection problem, exclusively in men; therefore, women and children are recommended to stay away from it. The Food and Drug Administration (FDA) has approved this medicinal drug to treat ED, which was legally established under the brand name of Viagra by a renowned US-based pharmaceutical corporation. Pharmacologically, this drug is recognized as a selective PDE5-inhbitor, which means that after the oral administration of Sildenafil Citrate, the PDE5 (enzyme) is inhibited drastically. There are various pharmaceutical agencies that prepare different forms of medicines by using this drug as an active and main ingredient.
How this drug works?
As discussed earlier, Sildenafil Citrate inhibits the enzyme PDE5 soon after the oral administration. The inhibition of this enzyme allows the body to elevate the levels of other naturally occurring compounds viz. cyclic Guanosine Monophosphate and Nitric Oxide. Once these chemicals are enhanced, the blood circulation process is dramatically improved; thereby, increasing the flow of blood towards the erectile tissues of the male organ. The penile stimulation takes place with this chemical interaction, which makes it hard during sexual activity and sustains for a longer period of time.
What are the directions?
The standard dose of this therapeutic drug is 50 mg, but it can be raised up to 100 mg depending on the body's need and response; of course, after having a word with the physician. The prescribed dose is meant to be taken roughly 60 minutes before planning the sexual activity session. It is unadvisable for a man to consume alcohol and high-fat content meal during dosage, because the drug absorption is hampered with these stuffs. The most important thing is to maintain a gap of 24 hours between two doses to stay away from overdose and its health complications.
Men with nitrates medication are strictly prohibited from using this anti-impotent drug, because Sildenafil Citrate and Nitrate acts haphazardly in the body if taken in conjunction, which may lead to severe medical complications. Soon after taking the medicine, it is recommended to stay indoors and avoid outdoor activities like riding or driving, because mild dizziness with foggy vision is experienced under the influence of this medicinal drug.
How to acquire medicines prepared from Sildenafil Citrate?
As you know that each and every medicine is available at local medical stores, but consequently, medications are also available at online pharmacy stores. You can buy Sildenafil Citrate online by using a reliable internet pharmacy shop, wherein you can get it by just sitting on your couch. Moreover, you will find a wide range of generic medications prepared from this drug from web pharmacy, that too at reasonable prices.