Garlic is not new to the humankind. Since ages, it has been used for various purposes right from in food for the medical use. Garlic is also known as genius onion. Garlic contains various important minerals and vitamins which are needed for our body like magnesium, fat, protein and lots more.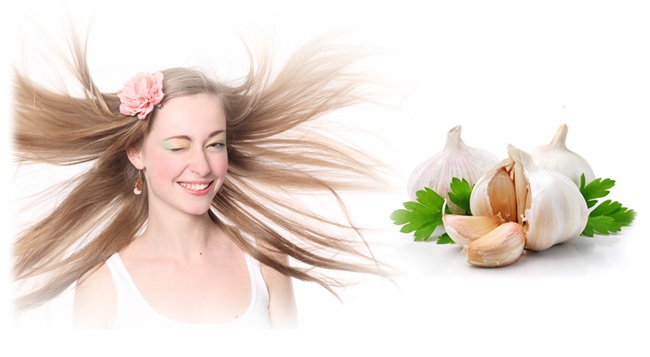 Apart from the known reasons, garlic can also help you to control the hair loss. Yes, it is true and the best part is it is very effective. It is said that the aged garlic extract is more useful for the hair growth. It has all the nutrients and antibiotics to protect your hair from loss.
Garlic is frequently added to the shampoos, oils, conditioners, gels and creams to produce garlic made products for hair care. If you use garlic then it would strengthen your hair and avoid it from drying, damage and breakage. It actually penetrates the hair and scalp providing life to both.
How To Use Garlic?
1.    Take a fresh clove of garlic. Cut open it and rub it directly on the area where you are facing hair loss. You can also use it on the entire scalp. Massage your head with olive oil and keep it covered overnight. Wash it in the morning properly. If you don't want to leave the treatment whole night then war a plastic cap and sit under the hooded dryer for half an hour. Wash it later on. Repeat it weekly till you have achieved the satisfied result.
2.    You can use this with your shampoo and conditioners too. Mix the garlic's juice or minced garlic along with your shampoo or conditioners or even hot oil treatment. After that, what it thoroughly.
3.    Use garlic oil. To prepare it, allow a handful of garlic cloves to soak in a cup of olive oil for a week. Once it's done, you can use this freshly prepared oil on your hair. Use it for gentle massage on the scalp before sleeping. Leave it overnight and wash next morning with shampoo.
Garlic works in a better way by allowing the proper flow of blood in our scalp. As the blood travels to the scalp, it brings important nutrients with it which helps the hair to grow properly. Massaging garlic in your scalp can be a god help to you. If you are looking for an easy and home remedy to avoid any sort of side-effects then opt for garlic. Also, try to include garlic in your diet as it is beneficial to your health in various ways. Garlic might not work if you're suffering from hair loss to hormones but then, you can give it a try.