The very first noticeable thing is more hair than the usual in your hairbrush or clogging of your shower drain. Hair thinning is also an alarming sign of hair loss.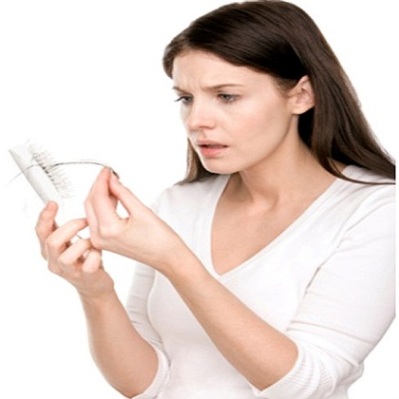 The reasons are manifold, but you ought to be aware of certain alarming and unusual reasons that account for hair loss. Here, I will be listing 9 such startling and rare reasons for hair loss.
Pattern Baldness: This might trigger hair thinning on sides or top of your head or at crown. It can aggravate over time, but treating the same at the right time will help to thwart substantial amount of hair loss as well as offshoot hair regrowth.
Stress Response (Telogen Effluvium):In case you have a major brunt on your emotional or physical well-being such as death of a family member or a surgery, then it is common for you to lose hair than the usual. Telogen effluvium may even occur due to sudden fluctuations in the hormonal levels. If stress is the reason, then hair may regrow in some months.
An Illness Or Nutritional Deficiency: Deficiency of zinc, iron, protein or any other vital nutrients may trigger hair loss. In women, diabetes or lupus may even cause hair loss.
Adverse Effects Of Some Drugs:A few medicines may uproot the problem of hair loss. Common ones include heparin, warfarin, beta-blockers and lithium based drugs.
Fungal Infection Of The Scalps: Certain types of fungi may even affect the scalp health causing the hair to break off from the scalp. Here, oral medications can treat the problem.
Alopecia: It is an autoimmune disorder, which causes a person's hair to fall out in round or small patches. In a few cases, it might even cause baldness.Injection or application of corticosteroid may resolve the problem.
Pulling or overstretching the hair: It is a kind of mental disorder known as trichotillomania, wherein the patient pulls out his/her hair frequently causing patchy and bald spots on scalp.
Excessive Treatment To The Hair:Note that, coloring your hair, using hot rollers or curling irons and braiding the hair tightly all can cause the hair to turn brittle to fall off eventually.
A few types of hair loss are curable by following a balanced and healthy lifestyle as well as caring for the hair. This will also assist to curb the stress. A balanced diet too plays a pivotal role in healthy hair.
You can prevent hair loss resulting due to from fungus by avoiding sharing of hats, brushes or combs with other folks.
In addition, if you wish to cover the scalp whilst you are undergoing treatment for hair regrowth, then talk to your hair stylist about the techniques to cover-up the sparse areas. Hair wigs and weaving might also come handy.

When Should You Seed A Doctor?
Talk to your doctor as and when you notice the first sign of hair loss. The doctor might take your hair sample to test for any fungal infection or may ask you to do some blood tests in case he fishes for some nutritional deficiency or illness for your hair loss. In case, you pull out your hair compulsively, then your doctor might advise you to visit a mental healthcare expert, who is a pro in treating trichotillomania.
Last but not the least, finding the exact cause of your hair loss is the most vital and first step towards resolving the problem.