Hair thinning is a very common problem these days thanks to the increasing stress and the sedentary lifestyle. It is a condition in which first, there is an excessive hair fall and then eventually bald patches appear.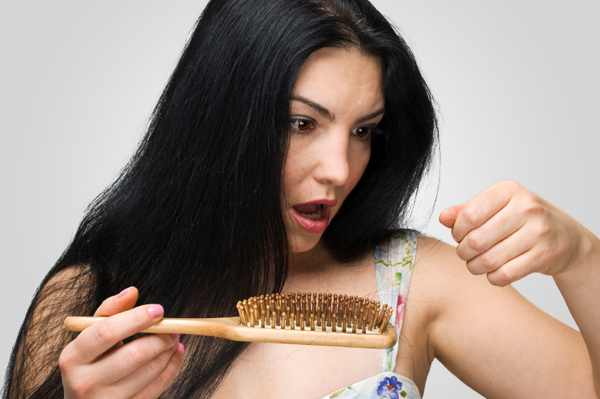 Thinning of hair is not just one problem, but there are many associated risks like affecting one's personality and looks and the fear of getting bald. All this lowers self-confidence and might even drag him or her to depression. This again worsens the condition.
Although it is not a life threatening condition and can be treated easily, yet it causes a lot of distress. The two main culprits considered responsible for hair thinning are lifestyle of the person and any hormonal imbalances that occur in the body. Infections and some other health conditions can also trigger this problem. Well, much has been discussed about the problem, now it is time to discuss about the treatment.
Restore your lost confidence back and get strong and luscious hair by trying out these simple natural ways:
Warm some olive oil and apply it on the scalp and massage for a good 3-5 minutes. Leave it overnight and then rinse it off with a mild shampoo and conditioner. Olive oil will clean away trapped dirt, remove excess sebum that clogs the hair follicles and make the hair thin.
If you are witnessing an excessive hair loss and thinning, you must give it a try. Apply onion pulp or juice; it will turn red that implies improved blood circulation. Actually, the major cause of hair thinning is poor blood circulation in the scalp. Once it is improved, hair thinning will stop.
Boil some fresh rosemary leaves in water. When it cools down, filter it and rinse your hair with it after you shampoo. Rosemary, an excellent hair regulator will help hair regrow and become thick and strong
Aloe Vera gel mixed with almond oil when applied and left on the scalp for a good 30 minutes will soothe the scalp and add strength and volume to the hair.
Take bell pepper or dry capsicum, add it to the boiling water and keep it for 5-7 minutes. When the mixture cools down, apply it on the scalp. Capsicum, many of you might not know help speed up hair growth and provide strength.
Take equal quantities of asparagus, mehandi, curry leaves, tulsi, methi, triphala, amla, shikakai, brahmi powder and bringraj. Make a paste using curd or water. Oil your hair and apply it on scalp one hour prior to washing. Do this thrice a week regularly for one month and you will notice amazing results.
Hair thinning is an alarm that hair loss is near and you need to take timely action. It is therefore, important that you do not ignore hair thinning and take action immediately. If taken care in time, you could be saved from losing your long beautiful hair. Follow Eat, drink and sleep well mantra to stay away from this problem. Consulting a trichologist or dermatologist is also another option.