Hair is one of the factors that make a person look attractive. However, one starts to lose hair with aging or many other reasons such as poor eating habits, stress and etc.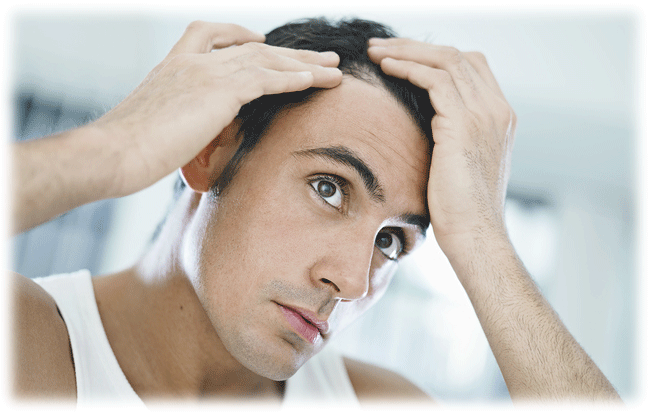 Not many men would want to get the bald look when they are still young. Following are few simple ways that you can care for your hair and help it grow longer and faster.
Stretch To Keep Stress Behind :
Stress is the one of the main reasons behind hair loss in men. When male body is stressed out, it produces additional testosterone and adrenaline.  Higher testosterone levels means more or a rise in DHT levels as well which causes hair loss. You can reduce stress by doing simple stretching exercises and meditation. Also you can try swimming or jogging. Adapting a healthy lifestyle will not only help you to fight stress and control hair loss but also to stay fit.
Take Proper Care :
Check whether you are suffering from any fungal infection on your scalp as it stops your hair growth. Take doctor's advice at right time to know the reason behind your hair loss. So you can treat it accordingly.
Go Natural, Chemicals Makes You Suffer :
If you are facing serious hair loss problem and want to regain your hair, then start using natural homemade shampoo instead of those available in the market. You may find it hard to believe but it is true, homemade shampoo can do wonders. Moreover, it can be made by easily available ingredients. Add 5 table spoon of curd, 1 table spoon of fresh lemon juice, 2 table spoon of raw gram powder, mix all ingredients together nicely. Apply and keep it for 1 hour and wash it with lukewarm water.
Mustard Oil :
Here is another method that can help in growing your hair. Mix four tea spoon of henna powder with a cup of boiled mustard oil. Mix it well and filter that oil. Massage the bald area regularly with it. You can store that oil mixture in bottle for next use. Do it everyday for better result.
Honey And Onion Works Magical :
Though onion makes you cry but still it works like a magic trick for your baldness and brings smile to your face. Take onion paste and rub on bald area till it becomes red. Then apply honey on the same area. Keep it for 20 minutes then wash it properly.
As onion contain high levels of sulphur, it helps in healing damaged skin and scalp, while honey helps to grow healthy hair.
Eating Habits :
Most health related issues can be resolved by changing eating habits. Vitamins A, B, C, & E play a very important role in hair growth. You can meet your daily requirement of the vitamins by adding gooseberries, carrots, soy bean, crunchy green veggies and most important walnuts in your diet.
Drink Enough Water :
Drink enough water to avoid dehydration which is dangerous for hair. Water also flushes out harmful toxics from our body. To make your water intake more interesting, drink fresh fruit juices. Carrot juice would be more beneficial.
Cut Off Your Addiction :
Quit smoking and avoid alcohol consumption as they damage scalp's oxygen and blood level. This leads to excessive hair fall and damages hair and makes them dry.
Cover Your Head :
Protect your head from hard sun light and dust. Wear cap or bandana. It looks stylish and cool while at the same time it protects your hair too.
Healthy And Natural Oils For Your Scalp :
Massage your scalp with warm coconut oil daily before going to sleep at night. Even you can mix almond oil and mustard oil for better results. But prefer to use natural oils than processed and scented one.
Check For Proteins :
Include more protein intake as hairs are made of proteins. Add peanuts, fish, eggs, pumpkin to you meal.