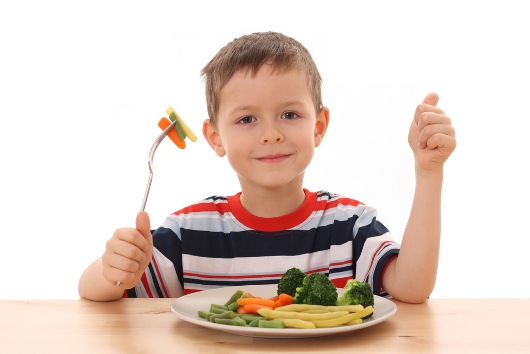 Fast going lifestyle, inadequate attention on the diet of kids and increasing dependence on packed and processed foods are largely responsible for rising obesity among children. Spending long time in front of television, computers and lack of physical activity have been responsible for the rising health problems among kids. However, having a daily routing of nutritious but low calorie diet can help in maintaining the weight among kids.
Although putting children under harsh diet may not be rational, thus, there is a need to monitor their eating habits constantly and suggest healthy nutritious diet to your child.
Below mentioned are some simple nutritious tips that can be beneficial while designing a low calorie diet chart for your kid.
Do not opt for the foods containing trans fats. Such foods include packed wafers, fried foods, cakes and fast food meats. Rather than going for regular or fried chips, go for baked ones.
Increase the intake of fresh fruits and vegetables in your kid's diet. Eat fresh fruits like prunes, mangoes, strawberries, oranges etc. as these fruits are rich sources of vitamins and other beneficial nutrients. Besides this, some dry fruits like walnuts and resins are also good for your child's health as these comprises heavy amounts of omega3 fatty acids which prevents hypertension and atherosclerosis in future. Increase the intake of green leafy vegetables walnuts, resins etc. as these stuffs have rich amounts of iron, magnesium and calcium. To get a full range of nutrients, have your little one try a variety of vegetables and fruits, such as strawberries, pears, celery sticks, and broccoli florets.
Include whole grains like oats, barley, whole wheat etc. in your diet. These foods are not only high in fiber contents but also improve absorption of food, which in turn enhances the digesting system. Moreover, these stuffs also limit the uptake of calories and thus are beneficial in weigh management.
Other than these, low fat milk and dairy products like butter and cheese are also helpful. You can also give yogurt to your kid as this not only helps in enhancing digestion but also benefits in the process of weight loss. These dairy stuffs are filled with calcium, minerals, vitamins and other important nutrients.
Avoid them from having potato fries; instead, go for sweet potato fries roasted in little quantity of olive oil.
Ensure that your kid's breakfast consists if oatmeal and low fat milk. Besides this, also make sure that you are using honey rather than sugar for extra sweetness.
Follow this nutritional guide for managing the calorie intake of your kid.