In the modern lifestyle that we rigidly follow today, one crucial problem that comes up is weight gain. The junk food that is eaten on daily basis is primary cause of plenty of health problems. In order to prevent the weight gain, the first thing is to go for the good diet plan that will keep the body weight under control and all the more give the reason to enjoy and add to the quality of living. Once you have your weight problem addressed, obviously, you will have a lot of problems solved.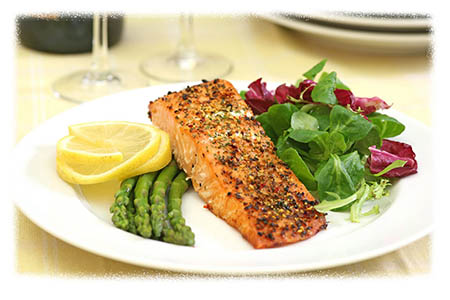 And now the reality… weight loss pills and other artificial exercises are not of any help. You must have come across several; of exciting weight loss tricks from the gurus out there on internet. All these gurus put forth different types commitment and write down tricks to control the weight problems. Many of these so called gurus also get ahead and pen down comprehensive diet plans that promise you to give you food results within days. However, it is all gimmicks at the end of day. But this is certainly not the case with Atkin's diet. This diet plan is easy to follow, it is safe and above all you will lose those extra pounds of fat slowly and gradually without doing any extra labor.
Atkin's Diet Plan Basics
In short, the Atkin's diet plan is a low fat and low carb diet plan which is designed to give you perfect body without going in for those expensive gym exercises and other crucial factors. Many among us will turn out to be skeptical. What is so special about the Atkin's diet? The specialty of Atkin's diet plan is that it will not tell you to reduce your diet; instead it will regulate the intake of carbohydrates. Studies have shown that carbohydrate is one of the principal reasons behind the increase of body weight and this need to be controlled.
Atkin's diet plan focuses on the carb counting. If you religiously follow pure Atkin's diet plan, you will be given not more than the 20 grams of on the daily basis.
Phases Of Atkin's Diet
Atkin's diet is divided into 4 distinct phases and you should follow each of these phases religiously and with all the comfort. If you do not follow the Atkin's diet plan all that religiously, you will hardly get its benefits.
Phase -1- This phase is rigid and it will last for around 2 weeks almost. This is known as the induction phase. Initially you are given absolutely 0 carb diet. At the end of this phase you are given the permission to include some carbohydrates.
Phase-2- The second phase is protein phase where you will increase the intake of proteins in your diet. However, make sure that you do not include the carbohydrates.
Phase-3- Add Nuts, Berries and Yogurt to your diet chart.
Phase-4- In the fourth phase, you have to increase the intake of fruits and legumes in your diet.
It is the time that you get out of the weight problems and enjoy the life more than anything else.