Everyone desires strong and lustrous hair, but with the rise in pollution and increasing stress in people's lives, hair becomes weak and begins to fall easily. Now a person need not go to a hair expert for hair loss or dull hair. Not only it leads to loss of one's precious dollars but also it subjects the hair to a lot of chemicals.
There are lots of homemade therapies that will help you get that luster back in your hair and make them stronger. These therapies use regular foods that most will likely have in their kitchen. These hair treatment therapies use ingredients that are both natural and affordable and will cause fewer side effects than the chemical-loaded hair treatment options that are available in the market.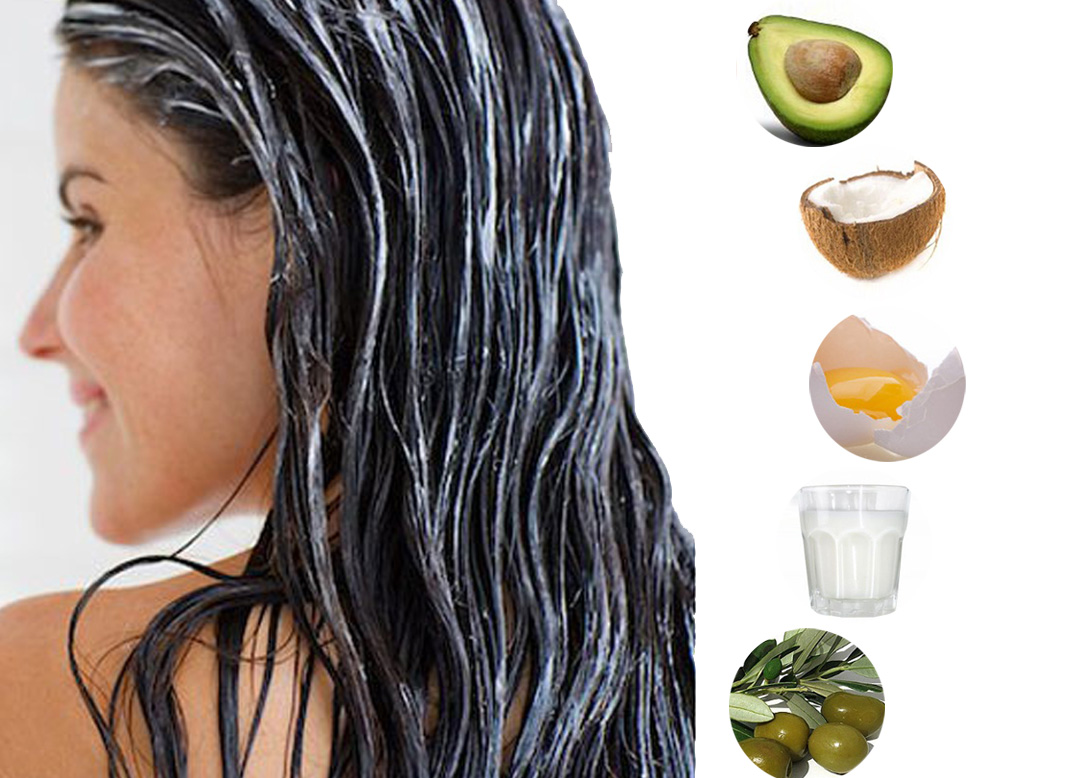 Here are six homemade treatments that will help combat hair problems without the use of chemicals:
Eggs
Eggs are helpful for every type of hair whether it dull, dry, frizzy etc. This is because egg yolk is rich in proteins and fats, which are moisturizing agents. The egg whites contain healthy bacteria which eliminates unwanted oils. Egg albumen is better for oily hair. Egg yolk mixture is more suitable for brittle and dry hair.
Use half a cup of whichever mixture is suitable and apply it on moist hair. Use more if the hair is not fully coated. Keep it for 20 minutes and wash with cool water and then shampoo your hair. Yolk treatment can be done monthly while albumen technique can be done once every two weeks.
Avocado
It will not only strengthen your heart but your hair too. It is usually suggested for frizzy hair. It has proteins and oils which will help to moisturize your hair without causing hair fall. Add few drops of peppermint essential oil to a mashed half avocado. To begin with wash your hair with a shampoo, then squeeze the water out and apply it. Keep it on for 15 minutes and then wash it. The hair will become very soft. You can increase moisture in the hair by adding a couple of tablespoons of yoghurt, egg yolk or oil. You can use this technique once every two weeks.
Yogurt or Sour Cream
Many chemical products may cause your hair to lose its shine and become dull. Yogurt and/or sour cream are dairy products that will help to get back that luster. These products contain lactic acid which helps in cleaning the dirt and fats in milk will help in moisturizing the hair. Take half a cup of yogurt or sour cream and massage it on to your damp hair. Keep it for about 20 minutes and wash with warm water and then by cold water. After that shampoo hair normally. This treatment can be done every week.
Honey
Honey is very good for hair that is dry or damaged by the sun. As many know, honey is a natural humectant and will help in keeping the hair moist. Take half a cup of honey and massage it in the damp hair. You may also add a few drops of olive oil for easy application. Keep it for 20 minutes and then wash thoroughly with warm water. You may also mix honey into egg yolk or avocado, this will aid in restoring the keratin. This technique can be done once a month.
Lemon Juice and Olive Oil
This treatment is helpful for those people who have dry flakes in their scalp. The combination of olive oil and lemon juice will aid in reducing the itching that is caused by dry scalp and will moisturize it. Take two tablespoons of olive oil, lemon juice and water each and mix them together, then massage your head with it. Keep it for 20 minutes and then wash and shampoo your hair. For best results do this therapy once every week.
Baking soda
Use of chemical hair products may build up residue in your hair which makes it dull. Baking soda is one of the best homemade methods to clean the residue from the hair. Take one or two tablespoon of baking soda and mix it with water until a paste is formed. Massage your damp hair with this mixture and keep it for 15 minutes. Wash thoroughly with water and the shampoo. You can do this technique once every two weeks.
Follow these techniques as they will help you get the envious hair that you have been always wanting.